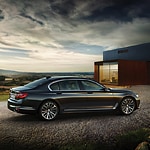 BMW is back in the headlines again and for great reasons. This popular automaker has unveiled its new lineup of automobiles, and its 7 Series sedan is a fan favorite. The new BMW 7 Series is luxury personified. This full-size sedan will take your level of performance to another dimension, so keep reading below.
The new BMW 7 Series will come in multiple trim levels, and the trims will possess multiple engine types. For instance, there's a 3.0-liter V6 that cranks out up to 335 horsepower. On the other hand, consumers may want to opt for the 6.6-liter V12 that delivers a whopping 601 horsepower. The options are nearly endless. This luxury sedan takes things even further by offering a variety of leather upholsteries. Five people will be able to seat in the car's cabin.
Interested buyers are urged to speak with one of our knowledgeable reps for more in-depth details.