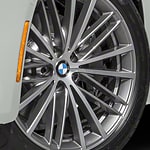 When it comes to a luxury mid-size sedan, the BMW 5 Series is one that always seems to come to the front of the list. This is because the brand that is behind its build has a solid reputation. Beyond that, the 5 Series seems to have every possible feature that you could really hope for in a vehicle of this caliber.
When you first lay eyes on the BMW 5 Series, you will notice just how spacious the cabin itself is. This is important as it will create a comfortable environment on those long road trips that you are almost certain to take in it. It is also plush throughout, so you will enjoy the experience even more.
When it comes to the exterior, you will notice that the BMW 5 Series has a look unlike any other. It is sleek and refined. This means that you will get noticed as you drive through the streets in your neighborhood.