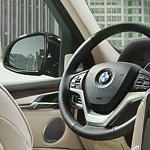 If you're on the market for a top-tier SAV, then look no further than the BMW X5. This popular mid-size SAV has some of the best craftsmanship, and it looks good in the process. Beautifully shaped LEDs are present on both ends of the body, and there are various exterior paints to choose from.
The BMW X5 can seat up to five persons. The front seats are 16-way powered, and they possess heated functionality. There's a premium sound system that's available, and you can stream your favorite songs via Apple CarPlay. Of course, the hands-free function of Bluetooth is available. The BMW X5 will also offer HD radio, which is standard. Wi-Fi Hotspot and an entertainment system are optional. Other features included are a power liftgate, navigation, climate control, and leather seats. There's also a sunroof.
Get a better feel for what this machine can do, so test drive the new BMW X5 at our dealership today.