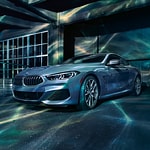 The BMW 8 Series Coupe is one of the best in its class, offering exclusive experiences, features, and designs. Like every other new model trying to compete in the market, the 8 Coupe stands out on its own. Our agents from BMW of Cape Cod have vast experience and information about the new 8 Series Coupe. So, how about we take you through an overview of the vehicle?
The BMW 8 Series Coupe offers an exceptional interior. The car features driver-oriented controls, multi-functional seats with leather upholstery, and the available Glass Control features on the cockpit. These features render you comfortable and effortless driving experiences on the roads.
The interior of the BMW 8 Series Coupe is also well built and luring. With its widely known and a distant-recognizable BMW signature, the Kidney grill gives it a bold and beautiful design. It also boasts of a sporty and powerful exhaust, a wide rear stance, and modernized taillights.